You don't have to go to the Museum of Natural History to see wildlife!
We make a set of educational, fun games, perfect for travel fun. All of the Roadkill Bingo products are great for stocking stuffers, graduation, going away parties and family reunions, or just any time you're "on the road".
---
Your family will never raise a stink about highway travel again after they have played Roadkill Bingo.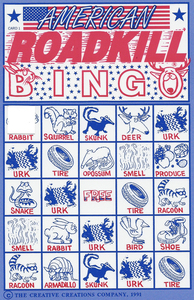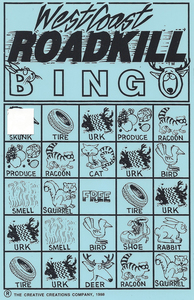 We have West Coast Roadkill Bingo for our friends in the California area and American Roadkill Bingo that works well all across the United States. West Coast Roadkill Bingo comes in blue (shown) and yellow.

The games have been road tested to minimize the miles between bingos. (In other countries, if some animals are less common, you can substitute; for instance, in many parts of Africa, you can think "elephant" instead of "skunk".)

You can also play Roadkill Lotto with it, so it's really two, count them, two games in one!

Roadkill Bingo comes with four colorful plastic playing cards so the whole family can play, and 77 static cling squares.

Roadkill Bingo comes in a handy reusable package that fits in your glove compartment. You can put your insurance papers and registration papers inside so you always know where they are.
---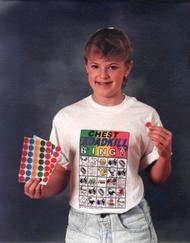 We offer ``CHEST'' Roadkill Bingo T-shirts, a low-tech, hands-on, educational travel game printed on a T-shirt with adhesive stickers to play the game on your shirt. It's more than a T-shirt, it's a travel game.

The T-shirts are printed on white, 100% cotton in sizes Large or Extra Large. The shirts are screened with six bright colors.
---
Playing Roadkill Bingo
The Prime Directive: If your vehicle hits an animal, the game is over.

As in normal Bingo, each player take a card.

The driver does not get a card! If the driver wishes to play, someone else must play their card for them.

As you travel down the highway and see an animal, you cover the cartoon character with a white sheet (out of respect for the deceased) until you get five in a row for a bingo.

The squares are reusable and there is nothing to break or wear out.

The game has humorous instructions on the backside on how to play Roadkill Bingo... plus instructions on how to play Roadkill Lotto!!! So it's really two, count them, two games in one!

NOTE: Larger families and groups will need 1 board game for every 4 players.
---
The Dave Barry connection: "Providing smiles for the highway miles"
Dave Barry included Roadkill Bingo in his book, Dave Barry's Gift Guide to End All Gift Guides (Crown Publishers). What better endorsement could you ask for?

You will find this game on page 38 of Dave's book.
---
Roadkill Bingo played during operation Desert Storm
Operation Desert Storm troops passed the time on Saudi Arabia highways by playing Roadkill Bingo.

An Army Sergeant passed out the four Roadkill Bingo cards from a ``West Coast'' version of the game to his truck convoy drivers prior to departing King Khalid Military City. The Sergeant explained the Roadkill Bingo rules: ``If your vehicle hits an animal, the game is over'' and announced some critical substitutions required to play the game on the Main Supply Route, (MSR Dodge) to Daharan. ``Abandoned cars, camels and empty water bottles were substituted for the `deer', `rabbit' and `skunk' on the West Coast version.''

``The convoy would stop to compare Roadkill Bingo cards at each rest stop and the troops spotted many `URKs' (unidentified Roadkill), smells, snakes, shoes and produce along the 450 mile route. We really enjoyed playing Roadkill Bingo and achieved a Bingo prior to arriving safely in Daharan.'' the Sergeant reported.
---
``Roadkill Bingo'' is a registered trademark of The Roadkill Bingo Company (formerly known as Creative Creations). Page content copyright 1995, 2018 The Roadkill Bingo Company.
Net Ads is a trademark of Miles O'Neal.