Free album (limited time): Engine of Destruction - Live 2003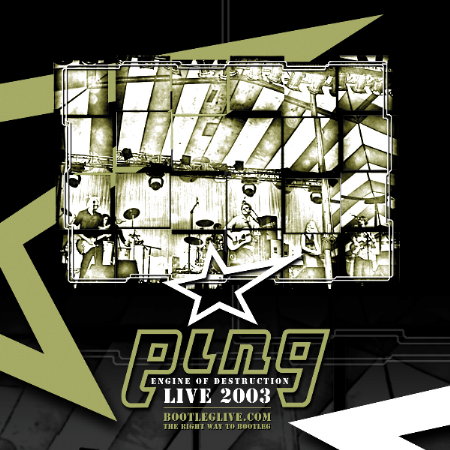 PC: Right-Click album cover and choose "Save As …"
Mac: Click the cover.
Trouble downloading? E-mail jeff@marathonrecords.com for a hassle-free Yousendit link.
High bandwidth: 320 kbps .mp3 files, bundled as a .zip archive. Total size is 93 MB.
---
Donations appreciated but optional.
Enjoying the music is mandatory. ;-)
---
In 2004, Rev Hillstrom of Creation Station Media released Ping's Engine of Destruction album via his Bootleg Live series. Recorded in 2003 on the Cornerstone Festival's Gallery Stage, the CD was released as a limited run and quickly went out of print.
In June 2009, Rev graciously returned ownership of the Engine of Destruction album to Ping. If Rev locates any stray copies of the CD, we'll offer them for sale on his behalf. We'd like to extend big thanks to Rev, and to everyone who purchased the CD back in 2004.
For a limited time, Ping is offering a high bandwidth (320 kbps) version of the Engine of Destruction live set as a free download. This show featured debut performances of three tracks from The Eleventh Hour Storybook studio album, in addition to material that has rarely been performed since. The studio prototype of "All in All" will remain a rarity for those with the original CD. Click the album cover to download a .zip file with ten mp3s.
You'll also note that there is a button for donations. This is strictly optional. While we'd certainly appreciate your support, we'll love the thought of you digging these songs even more. If you want to kick in a little and spread the word at the same time, consider purchasing the super-cool (if I do say so myself) embroidered Ping patch. Enjoy the music!
---
Track Listing:

01. Introduction by John J. Thompson
02. Mary Across the Ocean
03. Here Comes the Sunburn
04. Miracle Rain
05. Bedouin Girl
06. Radio Flyer
07. Engine of Destruction
08. Dig
09. Getting Ahead of Myself
10. Time to Leave

Line-up:

John Bretzlaff: electric guitar
Kim Bretzlaff: vocal
Chad Dunn: percussion
Jeff Elbel: vocal, acoustic guitar, bass
Stacey Krejci: bass, organ
Andrew Oliver: drums