ROADKILL BINGO CO. - BOARD GAMES
Your family will never raise a stink about highway travel again after they have played Roadkill Bingo.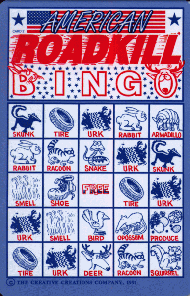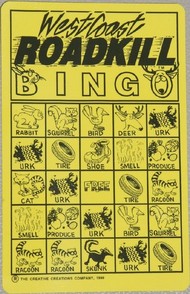 We have West Coast Roadkill Bingo for our friends in the California area and American Roadkill Bingo that works well all across the United States. The games have been road tested to minimize the miles between bingos. (In other countries, if some animals are less common, you can substitute; for instance, in many parts of Africa, you can think "elephant" instead of "skunk".)

You can also play Roadkill Lotto with it, so it's really two, count them, two games in one!

Roadkill Bingo comes in a handy reusable package that fits in your glove compartment. You can put your insurance papers and registration papers inside so you always know where they are.

---
``Roadkill Bingo'' is a registered trademark of The Roadkill Bingo Company (formerly known as Creative Creations). Page content copyright 1995, 2018 The Roadkill Bingo Company.
Net Ads is a trademark of Miles O'Neal.